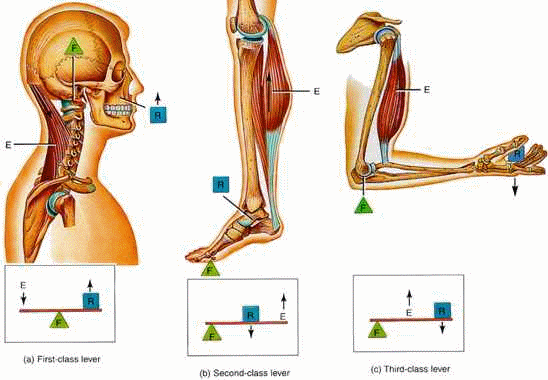 All types of levers present in the human body:
Levers are used to transfer a force from one position to another. They may be used to multiply forces,change the direction of the force required or produce turning effects (torque). Examples of commonly encountered levers are: wheel barrow, see–saw and pliers. The lever has three parts:
The effort (the force applied to the machine)
The load (the force exerted by the machine)
The pivot point (fulcrum)
To have a mechanical advantage greater than one, the load must be closer to the pivot point than the effort is.
The turning moment (torque) of a force on a lever equals (force applied) × (distance from pivot).
For a balanced lever, the sum of anticlockwise moments = the sum of clockwise moments.
The turning moment of a lever = force x distance it is applied from the pivot.